MEET MY MODERN FAMILY | ahts
I wrote about our experiences in "Meet my real modern family," Newsweek, January 30, Roger Penrose discusses the anthropic principle on pages – The official Modern Family site on ABC offers a deeper look at the hit TV series with You can watch full episodes of Modern Family free online. Meet the Cast . MEET SARAH HYLAND: The Teen Scene Stealer On 'Modern Family' a year-old high schooler on "Modern Family," but in real life she's nearly "I rather my boyfriend on Modern Family be him, so I don't have to make.
Because John was less sure about wanting this child than I professed to be, I had to act as cheerleader for the enterprise.
Welcome to My Modern Family
I was full of hopeful infatuation with a person who did not yet exist and sure that fatherhood would exalt everything I already cherished about John, but the conversation stalled there.
I could not be the sole enthusiast in our decision. John had proposed that I be the biological father of this child and said that he might sire the next, if there were one.
Like many middle-age couples with fertility issues, we began the blind-dating egg hunt. We flew to San Diego to ingratiate ourselves with our preferred donor agency. I was thankful we could get an egg, regretful that neither of us could produce one; happy we could have a child at all, and sad about the aura of manufacturing that clung to the venture.
The catalogue of attractive attributes touting each donor made me feel as though we were choosing online a car we would be driving the rest of our lives. Grandparents who lived past 80? The whole quest was absurd, depressing, morally troubling. Yet, the care of choosing the egg donor seemed like one concrete gesture we could make in a time of petrifying abstraction.
'Modern Family' Casts First Transgender Child Actor
There followed medical screenings of Laura, the egg donor and me; samples the bright hospital room, the leatherette briefcase of dated girlie magazines provided by the staff ; fertility treatments for Laura; embryo transfers; and ultrasounds. Like many of the families I had met, mine was touched in equal measure by changes in social norms and changes in technology. Their fortunate concurrence was the precondition of our children. We got pregnant on our second IVF protocol.
We drew inexorably closer to Laura and to Tammy and the kids.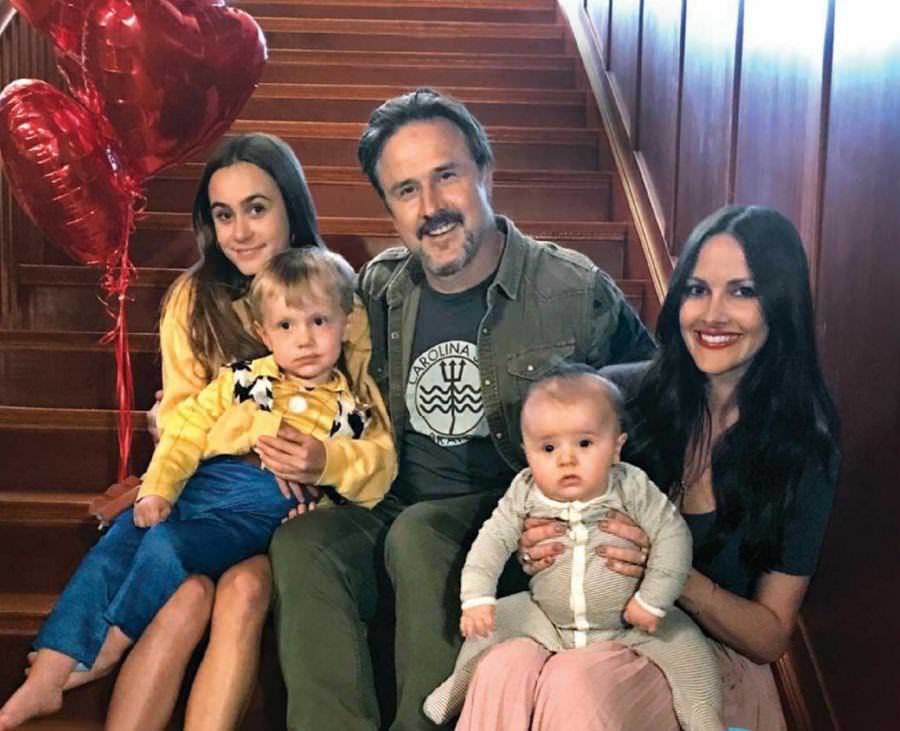 Oliver and Lucy referred to the yet-to-come baby as their brother. When they learnt that little Blaine called us Daddy and Papa John, they told their mothers they wanted to call us Daddy and Papa, too. I was not prepared for the idea that all of these children were in various degrees mine, but the sweetness with which John had come to celebrate the Blaines modelled a path to acceptance.
Having set out to have two children, I was suddenly contemplating four, and I now believed that I could love them all profoundly, even if I loved them differently.
That would have been the easier path, and I mistook it for the better one. Laura had chosen to deliver without pain medication, and I found myself newly in awe. For nine months, I had felt the favour she did us as though someone had offered to carry an increasingly heavy bag of groceries up an increasingly steep staircase, but suddenly I understood that she had made a life for us.
Seeing her give birth, I witnessed the pain of the final dilation and felt the radical newness coming out of her. She pushed twice and out George popped, instantly proving the strength of his lungs with a good cry, and wiggling his arms and legs. The obstetrician pronounced him healthy. And then we noticed his umbilical cord, which was knotted.
George had come out at just the right time. If the labour had gone on longer or we had waited a few more days to induce, the knot might have tightened, depriving him of oxygen, destroying his brain and giving Laura a potentially fatal placental haemorrhage. We went through all the semi-medicalised and personal rituals that follow a healthy birth. Many photos were taken, and we took off our shirts so he could be on our skin, and we watched him be weighed and measured, and we saw ointments put on his eyes, and we introduced him to Oliver and Lucy.
Navigation menu
Search form
We called my father and stepmother, my brother, Blaine and a few others who matter deeply to us. John was instantly enraptured, as I knew he would be, because birth is so mysterious and so much weirder than sorcery or intergalactic warfare that it humbles you instantly. I had felt it with little Blaine and I felt it again here.
By the time John and I had settled in our hospital room and the nurse had given George his first bath, it was 2. I sat there eating, helping Oliver and Lucy hold the baby safely, and then the paediatrician came in and said she was concerned. George had not been drawing his legs up the way that babies are supposed to and was instead holding them out stiff and straight for up to three minutes at a time.
I felt the inside parts of my body that are usually warm go cold, while the parts exposed to the air suddenly seemed to be on fire. I looked at George and knew I loved him by how hard I suddenly tried not to love him. I remembered all the parents who had described spreading the news about their thriving baby and then picking up the phone a day or two later to report a different tale. A rational piece of me was trying to decide under what circumstances I would support whatever heroic measures might be called for.
A terrified piece of me was contemplating giving him up into care. My strongest impulse was to hold him tight and not let him go for the tests at all. Finally, the news came that we were set for the CAT scan.
Modern Family (season 4) - Wikipedia
Alas, our nurse had cycled off, and we were now assigned a pretty young woman with the bedside manner of a flight attendant, her banal friendliness not quite masking an irritable boredom. The imaging room was grim. We watched helplessly as George was positioned in the machine.
He was more or less asleep and did not stir as his head was locked into place with straps fastened across his forehead. They let us stay, wearing big lead aprons, and we tried to comfort George, and I was suddenly aware of how uncomforting I was to someone who had not yet learned to turn to me for comfort. Back in our room, so recently cosy, we waited.
Then we waited some more. Then he launched into what they had been testing for and what each image showed, and he eventually revealed that the scan was completely clear. The whole thing was over.
John and I became fathers when gay parenting was a thrillingly new advance. I understood the day George was declared well that hope is not a thing with feathers, but a squalling, pink thing newly arrived, that no other optimism is so great as having a child. After George arrived, the question arose of how all these relationships might constellate. John and I have complete charge of George; Blaine and I had agreed in advance that we would make the major decisions about little Blaine together; Laura and Tammy have separate parental authority, and we do not set the course for Oliver and Lucy, nor Laura and Tammy for George.
A few years before I met John, during a trip to Texas, I attended a dinner that included my college friend Blaine. I had adored her for more than 20 years, but then, everyone adores Blaine; she is serenely beautiful and poised, and I had never felt indispensable to her as I do with more difficult friends.
Blaine had divorced and shortly thereafter lost her mother, and she alluded to her yearning to become a mother herself. When Blaine came to my 40th--birthday party in New York three years later, inwe realized that we both wanted to have that child together. When I did tell him, he exploded. He had been a sperm donor, he argued; I would have a child who would bear my last name.
I would be involved in an ongoing, profound relationship with Blaine that he feared would lethally triangulate our own. I did not know how hard it is to reinvent family, and he could not envision how fulfilling this particular reinvention might be.
John, whose benevolence invariably triumphs, finally relented, and Blaine and I conceived through IVF.
Andrew Solomon: Meet My Real Modern Family
Blaine, meanwhile, had met her partner, Richard, putting a reasonable if unusual balance in place. Marrying him was my way of acknowledging our love as more a presence than an absence, which was especially urgent as we moved forward with the Blaine plan.
I am a dual national, and Britain had recently passed an encompassing civil-partnership law, so we had a June ceremony in the English countryside, presided over by a registrar, a minister, and a rabbi. I watched the obstetrician pull my child out of her mother, and was the first person to hold her, and was as shocked as I was elated.
Little Blaine was to live in Texas with her mother, and we were to visit each other often. I was grateful that John welcomed the daughter he had dreaded—grateful, too, that he and Blaine had come to cherish each other. Still, I wanted a child in my own house with John.
I exacted a child as fair trade, believing John, too, would end up entranced. Our first choice was a charming woman who, several months into preparations, tested positive for cocaine. I was thankful we could get an egg, but sad that neither of us could produce one; glad we could have a child at all, and regretful about the aura of manufacturing that clung to the venture.
John had proposed that I be biological father of this child and said that he might sire the next, if there were one. Children had been a buffer for Laura against pain and fear, giving purpose to her calm authority; now, she bravely converted that vulnerability into generosity.
We got pregnant on our second IVF protocol.
Pregnancy supersedes irony; you never know anyone as admiringly as you do when she is carrying your child, and I marveled at the way Laura wove the life she was building for us into the life she had built for herself. Through the proceeding, we drew inexorably closer to Laura and Tammy and the kids. Oliver and Lucy referred to the expected baby as their brother, and I was shy of their enthusiasm. We went to Minneapolis for the late stages of the pregnancy and ended up staying a month, seeing them every day.
I was not prepared for the idea that all of these children were in various degrees mine, but the generosity with which John had come to embrace an inclusive notion of family and celebrate the Blaines modeled my path to acceptance. Having set out to have two children, I was suddenly contemplating four. By little Blaine, by the imminent George, by Oliver and Lucy, I had been changed, and children made me happy. On April 9,at 9: I cut the cord.
We summoned Oliver and Lucy from the waiting room; we called Blaine and my father.
John was instantly enraptured, as I knew he would be. We saw clearly for the first time something wild and heroic in her, an acreage of heart and valor beyond anything our male experience had taught us. I had taught him about determination, about doing things instead of simply imagining them; now he taught me about experiencing those things. We had been advised that if the Defense of Marriage Act were repealed, we should have a marriage legally recognized where we live, so we had a second wedding in Connecticut, two years after our English one.
We incorporated a naming ceremony for George, appointing godparents and honorary aunts. I keep on my iPhone a portrait from that day, a visual aid for elucidating how we are all related.