Adoption reunions: 'There is no doubt that the road gets bumpy' | Life and style | The Guardian
Adoption is a positive choice. Looking to Adopt? AWL has been placing newborns into loving homes for over 32 years. Find a family for my baby. Meet Our. Sep 14, She thought I would just meet them, get answers to all my questions and walk away. It drove So I decided to try and have a better relationship with my birth family. . A reader revives our adoption series by informing us that it's National . My own experiences don't jive much with those discussed by other. Apr 13, They come from a letter written by year-old Tennessee nurse Torry Hansen, who sent She would have sat through the mandatory "adoption education" time to meet the child she would adopt, and again, after a waiting period, . Our family's adoption was far from perfect, although for the moment it.
He looked at his son and thought, how could you have given me up? Other issues can arise — the difficulty of divided loyalties with adoptive and birth relatives, for example. There's no doubt that the road gets bumpy.
Adopt a Baby in MA | Adoptions With Love
I remember her putting some money and essentials in a bedside drawer for me, as well as giving me keys to her tiny council flat. To me, this was huge — I felt I had this place to go where I was really wanted.
One night it all came to a head when she got seriously drunk on a shared holiday. Things were never the same. When my 30th birthday came and she didn't send a card, I thought, she has done this three times now — once when I was born, once when we didn't have contact for a year after a previous drinking episode and now this. In the late s, Philippa made contact with the daughter she had given up in the s as an unmarried teenage mother.
When Philippa first contacted her daughter via an intermediary, she wrote back saying she didn't want contact, but was happy to say that she was OK. I also love how passionate and fearless she is in pursuing her dreams.
Her ability to form and maintain friendships and her care for her family are also incredible and mean that our home tends to be filled with loved ones.
Our Extended Family Alain has 6 siblings, 6 aunts and uncles and 60 cousins! They live in Rwanda, and many have come to visit us and we visit them too. Celia has a brother, 6 cousins, lots of aunts and uncles and her paternal grandparents, and we spend time with them at holidays and other celebrations.
All of our family members are excited for a new addition to the family. Our Adoption Story Celia was diagnosed with a heart condition when she was four months old. Although the doctors repaired her heart, she always knew that it would be unsafe for her to give birth to a child and that adoption would be the way she would become a parent. Alain has always wanted to be a father and adoption seems like the perfect way to make that dream come true. We are thrilled to start this lifelong journey together!
In all places, we are often the ones making the pie. We also love living here because we can access all the great things that Boston has to offer, such as museums, parks and cultural activities, even while living in a quiet and green part of the city. We met using an on-line dating service! After hanging out together on numerous occasions, we were becoming more than friends and fell in love with each other.
I gave back my adopted baby | Life and style | The Guardian
It was awesome that, even though we were culturally polar opposites, we had personalities that just worked together. Inwe moved in together and got married 4 years later.
Jinrong is an entrepreneur, and Dan works for a major University.
Dan would also take some time off initially to be with the baby. Jinrong loves to walk, jog, cook, play tennis, go to shows, and spend time with friends. Together, we enjoy going to shows, restaurants, and long walks around the city. We are very adventurous and love to travel and explore the world together.
Qualities we see in each other: Dan has a big heart, is very smart, and is an awesome person! He respects and embraces different people and cultures. He also has a great sense of humor and we belly laugh daily. Jinrong is a very strong person.
Adoption reunions: 'There is no doubt that the road gets bumpy'
She left China by herself and moved to the US to try and better her life. She worked hard, held a professional job, and eventually opened up a small restaurant all on her own.
She is relentless in the pursuit of her goals. We truly want to have a family and although it would have been great to have children of our own, we knew that it was a long shot and always had adoption as a possibility. If we are lucky enough to be chosen, we will do everything in our power to be great adoptive parents to your child, love them unconditionally, and raise them as our own. We will positively teach them about their birth parents, so they know who and where they came from.
Expectant Birth Parents
1-800-722-7731
The painful truth about adoption.
We will do our best to help them understand the sacrifices you made for their future. Activities we look forward to: We want to share all of our hobbies with our child, especially our love for travel.
But we also want them to laugh every day and enjoy life! Our families are in different parts of the world, but we try to see them as often as we can. Dan has a sister close by and two biological adult sons from a previous marriage that are relatively close by.
MEETING MY BIRTH MOTHER FOR THE FIRST TIME!
On all major Holidays, we try to get together with as many of them as possible to celebrate. We have an apartment in a large, diverse, city. Our complex has over children living there at any given time. Our community is very vibrant with many restaurants, parks, libraries, museums, major league sports teams, and other cool activities. Adam is a doctor, and Jason is a lawyer. We live in Boston with our sweet dog Oreo. Our Story A mutual friend introduced us in in San Francisco.
Adam was in medical school, and Jason was in law school. It was love at first sight. Later we moved to Boston, where we married in in front of our friends and family.
Our Hobbies Adam loves to rock climb and hike outside, while Jason loves to sing and play music. A perfect night together would be dinner and a movie, especially a good romantic comedy.
What I love most about Jason is his generosity and sense of justice. What I love most about Adam is his silliness and compassion. Holidays with Our Families With most of his family in California and Arizona, Adam makes the most of his time with his parents, three sisters, and young niece and nephew.
We all get together every Thanksgiving in Southern California, when Adam's extended family gathers for lots of turkey, stuffing, and fun at the beach. For Christmas, there's nothing we love more than to visit Jason's family in Michigan, to see his sister and brother-in-law, their two kids, and his mom who lives with them.
Afterwards, one of our favorite traditions is to invite all of our cousins over on New Year's Eve for a big sleepover. Our Adoption Story From our first date, we've talked about having children together.
After many years of school and careers, we are ready to take that step and welcome a baby into our lives. We want to build a home that is filled with laughter and love, singing and silliness -- not to mention our dog Oreo's occasional barking!
We hope you feel comforted to know that your child would be the center of our universe. We want our child to know their history and heritage, and the choices you made to give them the best life possible. But what's most exciting is that our child will be exposed to the wonderful diversity that the city has to offer.
Thank you for taking some time to learn a little about us! We are Trish and Matt. We are a young, energetic couple and we are very excited about starting our family through adoption. We are surrounded by a supportive network of friends and family and we are lucky enough to be called Auntie, Uncle, and Godparents to amazing children in our lives. We have a puggle named Emmett who keeps us very busy and active. Matt is a middle school science teacher and he enjoys creating new, fun experiments to help his students learn about science.
Trish is an executive recruiter for hospitals and health systems and she takes great pride in helping healthcare organizations find outstanding leaders. She has a lot of flexibility with her job and works from home which will give her the opportunity to be with the baby. We met on a blind date in the spring of Our friends from work set us up because they knew we had common interests and active lifestyles.
Dan lacked strength in his legs and had a completely flat head, from lying in a cot so many hours a day. But the physical or developmental issues weren't the real problem.
Five or six months after his arrival, I knew that Dan wasn't attaching.
We had expected his indifference towards my husband, who was deployed away from home for most of this time, but I worried that our son should have been closer to his sisters, and especially to me.
But Dan's attachment problems were only half the story. I also knew that I had issues bonding with him. I was attentive, and provided Dan with a good home, but I wasn't connecting with him on the visceral level I experienced with my biological daughters. And while it was easy, and reassuring, to talk to all these experts about Dan's issues, it was terrifying to look at my own. I had never once considered the possibility that I'd view an adopted child any differently than my biological children.
The realisation that I didn't feel for Dan the same way I felt for my own flesh and blood shook the foundations of who I thought I was. I sought help and we had some attachment therapy to strengthen our relationship, but still I struggled. One day I was on the phone with Jennifer, our social worker, when suddenly I blurted out that I couldn't parent Dan, that things were too hard.
As soon as I said these words out loud, a flood of emotions washed over me, and I sobbed. Jennifer didn't say anything, she waited patiently, and when I had nothing left, she asked me to start from the beginning.
We talked about my family; about the problems my husband and I were having with Dan and, as a result, with each other; about the girls and their partial indifference toward Dan; and about some of my son's specific challenges.
For the next several weeks, Jennifer and I spoke daily. She mostly listened and told me to focus on Dan's future and wellbeing above everything else. My thoughts and emotions were disjointed. One moment I was determined to keep Dan because I loved him. An instant later, I realised that I wasn't the parent I know I can be, and that I should place Dan with a better family, with a better mother.
As I wrestled with these demons, things remained very tense; whenever my husband was home we fought incessantly. Then early one morning Jennifer called, and told me that she had found a great family for Dan. They had seen his pictures, heard his story and fallen in love with him. The mother, Samantha, was a psychologist, and the family had adopted another boy with similar issues a couple of years before.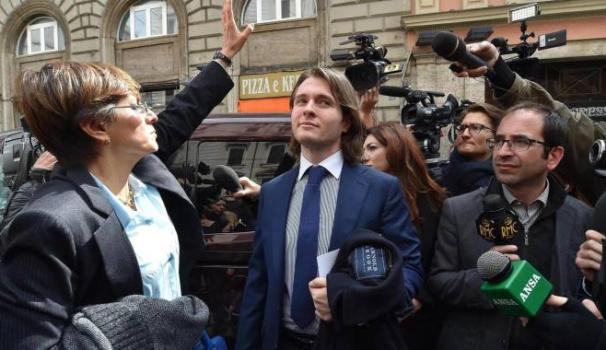 I spoke to Samantha and her husband a few times on the phone and instantly felt comfortable with them. We decided that she should come down to meet Dan by herself, to ease the transition. The decision was final. Less than two years after he arrived, Dan would leave my home.
While waiting for Samantha to arrive, Jennifer helped me to talk to my kids, and other family members, but most importantly she held my hand when it came to speaking with my son. I explained to him that he'd be joining his new family and that we loved him very much — that he had done nothing wrong.
I don't know how much he understood.
I gave back my adopted baby
For my first meeting with Dan's new mum, I was a wreck. I dressed him in one of his cutest outfits, strapped him into the car seat and took off to meet Samantha at a nearby McDonald's. The ride was short, but each time I approached a traffic light, grief assailed me, and I turned around, determined to head back home.